Hello! Welcome to Spring and welcome to our April Live. Better blog. This month we're celebrating families and the importance of exercising and playing together. With the Easter holidays and (hopefully) warmer, sunnier days this month, it's the perfect time to get together, get outdoors and get movin
It's fun to exercise together and it doesn't have to be boring, I love playing Woodland Adventure Golf with the family, fun outdoor exercise! Just don't get too competitive…like me!
I also love walking on the Woodland Fairy Trail, looking for all the clues in the booklet you can purchase and exercising my dogs at the same time. The Cabin – cafe & bar is now open and welcomes dogs, one of my favourite things to do is to follow a walk with a delicious cup of coffee, so the Easter holidays look likely to be filled with lots of fun for all of us!
Move
Benefits of Woodland Adventure Golf!
Cardio and Exercise
I love the Woodland Adventure Golf course because it is a great way to get all of us together, exercising and having fun outdoors. There are lots of obstacles and fun challenges throughout the game and because I am a competitive person, I get the family to play quite regularly. So much so that my next visit is FREE!
Apparently, you can burn up to 300 calories playing this game, I am sure I burn more with all the jumping up and down I do when I manage to get a hole in one! This Easter I will be trying to burn more calories so I can enjoy the chocolate prize at the end when we have finished the Easter egg hunt that is running until the 16th April, yummy, I can't wait to play!
Educational benefits
Hand-eye coordination is needed for mini-golf and you can help develop it while having fun at the same time. The main reason I love this game is the adding up element to it, to work out who the winner is at the end of play. I don't know about you but this is really where my family like to cheat and blame it on their mathematical skills, well as I tell them, play more and you will be an expert at adding up!
Mental Health
As a family we have so much fun spending time together outdoors, whatever the weather, this is what makes us happy as a family, so just image what laughing can do for you when smiling offers a mood boost and reports prove it helps our bodies release cortisol and endorphins that provide numerous health benefits, including:
• Reduced blood pressure.
• Increased endurance.
• Reduced pain.
• Reduced stress.
• Strengthened immune system.
Eat
With The Cabin – cafe & bar now open and welcoming our four legged friends, there is the chance to grab a snack and cup of coffee, while we are out and about, where the kids can enjoy the woodland play park and I can sit in peace with the dogs. When we are at home, I like to try different fun food ideas, which need to be easy, because I am not the best cook! I also like to get the family involved so we had great fun making these, I hope you do too!:-
Easy Easter Healthy Snacks
These healthy Easter snacks are adorable and fun-to-make! They're perfect for class parties, playdates and more. Add these easy snacks to your next Easter celebration!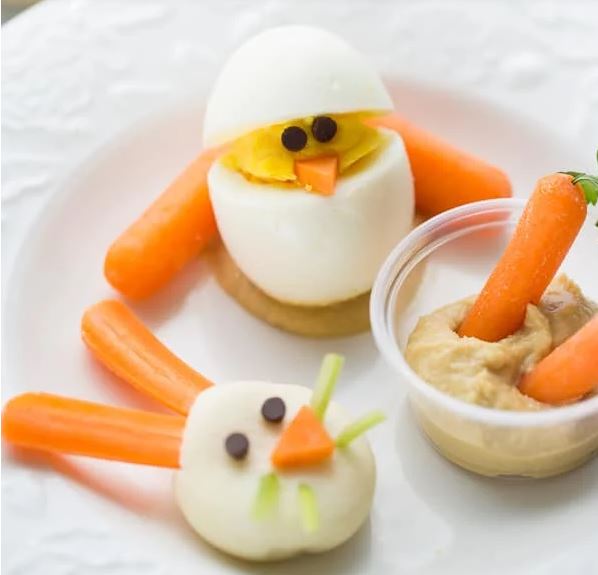 Bunny Faces
Mini circle cheeses
Celery – cut into "whiskers"
Baby carrots – cut in half for ears
A large carrot – cut into a triangle for nose
Mini chocolate chips – for eyes
Assemble the cute bunny faces by pushing the baby carrots into the top of the cheese for ears. Place the rest of the pieces on to make a bunny face.
Egg Chicks
Hard-boiled eggs
1-2 teaspoons mayonnaise per egg
A large carrot – cut into a triangle for a beak
Mini chocolate chips – for eyes
Carrots/hummus to help the egg sit up
Cut the egg in at the 1/3 point. Carefully scoop out the yolk. Mash the yolk up with mayonnaise and scoop back into the larger egg portion. Top with the other 1/3 of the egg and add chocolate chips/carrots for the eyes/beak.
Read
Fitness As a Family: How to Get Moving with Kids of Any Age
'While fitness as a family can certainly include more traditional forms of exercise, such as training together for a 5K race or going for a hike, it can really encompass any form of physical activity that you do together as a family.
Maybe you're a busy parent, and struggling to find the time to get to the gym or to a yoga class like you used to. Or perhaps you're concerned about your child's amount of screen time and want to see them being more active day to day. An option worth exploring is family fitness.
By engaging in fitness as a family, the whole family can enjoy time together and reap the benefits of regular physical activity. Read on for some fun ways you can get active with kids of all ages in Forbes Health.'
Relax and enjoy – click here to read
Reading with the kids is also great fun and we are so excited to be able to offer a fantastic book for the kids that you can enjoy together this Easter – 'Jungle Animals – A Spotter's Guide' – Take a hike through the world's rainforests and spot more than 200 wild, colourful, peculiar, and marvellous jungle animals–without ever leaving your own bedroom!
See you next month, for more latest health news, stories, tips and competitions that inspire healthy bodies, healthy minds and healthy lives.
Stay active. Live. Better.