China Fleet Trust Marks Affiliation with 47 Commando (Raiding Group) Royal Marines
12 December 2022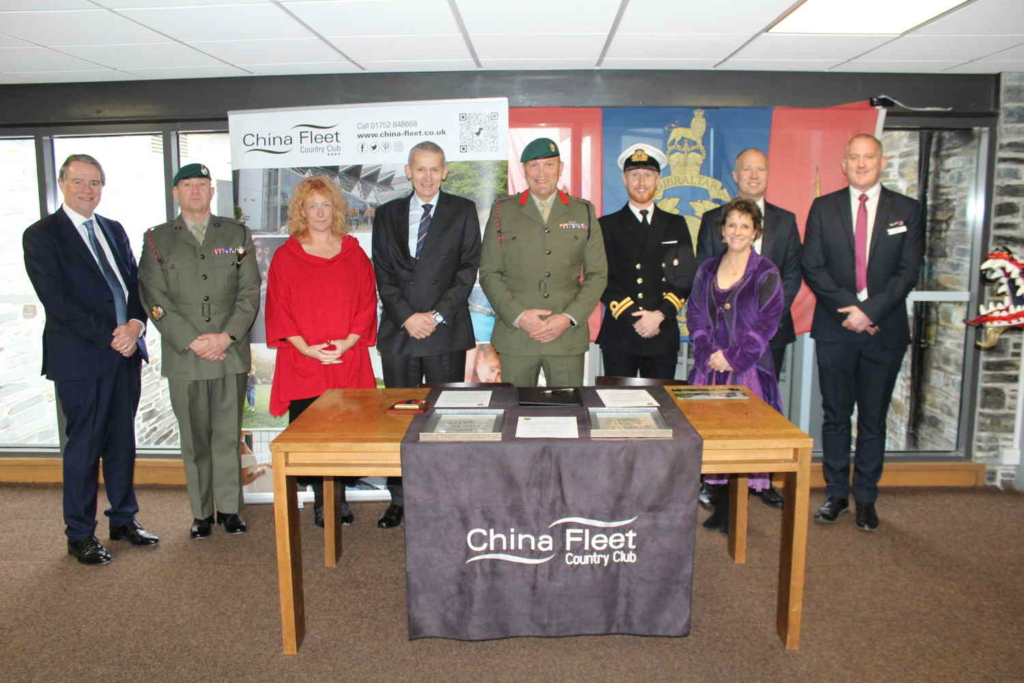 The China Fleet Trust is delighted to announce the affiliation of the Trust with 47 Commando (Raiding Group) Royal Marines. The Royal Navy's Fleet Commander having approved the affiliation request on the 7th of November.
The affiliation was formally recognised with the unveiling of a new addition to the Club's heritage area and the joint signing of a Partnering Agreement by the Trust's Chair and the Commanding Officer of 47 Commando at the Club on Monday the 12th of December.
The China Fleet Trust is an important military charity who own the China Fleet Country Club in Cornwall and whose charitable objects are to provide quality leisure and recreational facilities to their beneficiaries; all serving members of the Royal Navy, the Royal Marines, the Royal Fleet Auxiliary, the Maritime Reserve and their families. Ex-serving members of the Royal Navy and the Royal Marines are also classed as beneficiaries.
The affiliation with 47 Commando, based at Royal Marines Tamar, signifies a deep bond between the Trust, the Royal Navy, and the Corps. The connections between the China Fleet Trust and 47 Commando are evident when you gaze out onto the river Tamar, where you will often see the Commando unit's personnel and equipment exercising from their base, located in Devonport. The location and name resonate with the Trust's roots from its original Club in Hong Kong, which was located within HMS TAMAR.
Quote by Rear Admiral John Weale CB OBE (Chair of the Trustees):
"It is fantastic to have 47 Commando from Royal Marines Tamar affiliated to the China Fleet Trust and our Country Club. We look forward to supporting them and their families, providing a venue and facilities where they can relax, stay and enjoy the splendours of the southwest"
Quote by Col Rich Maltby RM (CO 47 Cdo):
"The China Fleet Trust has been providing unparalleled support to the Naval Service for decades, and today I'm very proud to be able to announce that 47 Commando (Raiding Group) Royal Marines will be benefiting from a bespoke affiliation as we sign an official partnership between our organisations. As the Commanding Officer of a busy operational unit, I am grateful to the Trust for this partnership which will improve the lived experience of my personnel and their families for the coming year. At a time when the demands upon our Service personnel remain high and the cost of living impacts, the benefits this affiliation will provide welcome support to all members of 47."
The China Fleet Trust also has an affiliation with HMS TAMAR (a batch 2 Ocean Patrol Vessel deployed on an enduring mission to the Asia-Pacific), so there is now a neat synergy and connection to both dark blue and green elements of the Service has never been stronger