Encourage a little 'he-time'
November is all about men. Men's health, men's charities and male role models. And why not, after all, us women get a lot of focus and events throughout the year!
Every November, men grow moustaches in support of Movember, the foundation which raises money for research into men's health. Statistics show that men die on average FIVE years earlier than their female counterparts.
In addition, this month also sees the less well-known International Men's Day, a day which aims to raise awareness of the health challenges faced by men and boys and highlighting positive male role models.
It's also a great time to spoil the man in your life and encourage them to take steps to improve their health, fitness and stress levels. Unprecedented numbers of men are now living with rising stress levels thanks to growing work and life demands. As a result of this, there is a growing awareness and invested interest among men in their personal wellness too. Men are beginning to realise that there's no need to be shy when taking pride in their well being and appearance.
In fact, the male grooming industry has changed dramatically over the last 20 years, and it's now far more common for men to buy and use skincare products and even go for treatments. A quarter of men spend up to £20 a month on grooming products, according to a study by Statista. By 2024, the global male grooming market is estimated to be worth about 29.14 billion US dollars.
Men's grooming treatments and products are also on the increase here at China Fleet Country Club in Cornwall. In our Barn Spa we have a carefully crafted list of grooming treatments which have all been designed especially for men and men's skin. Choose from relaxing face or hand and nail treatments to waxing. The treatments also make great gift ideas with a range of vouchers available. The Just for Men range is so good in fact, I'm feeling a little jealous!
Contact Barn Spa 01752 848688 option 6
Barn Spa Opening Hours:
Monday: Closed
Tuesday to Thursday:10.00am – 8.00pm
Friday: 9.30am – 5.00pm
Saturday: 9.30am – 4.00pm
Sunday: 9.30am – 4.00pm
Barn Spa Vouchers available here
See you next week & see you at the Club soon,
Debbie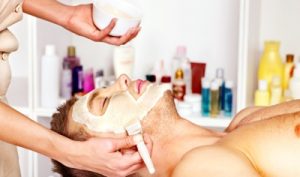 On the Devon and Cornwall border on the banks of the River Tamar, China Fleet Country Club is one of the South West's leading country clubs. With award winning golf, spa, beauty, gym, exercise classes, accommodation, bistro & brasserie, conference facilities and events, the Club is set in 180 acres near Plymouth. Trip Advisor Certificate of Excellence, Trip Advisor Green Leaders Gold Level & South West Green Tourism Silver Awards.